J. O. Sanderson High School

In Memory
Stephen Jenkins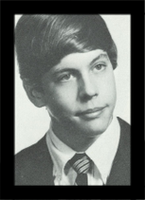 Steve W. Jenkins died Dec 26, 2021 while exercising. Cause of death was a splenic artery rupture, which is the third most common intra abdominal aneurysm. Steve attended Broughton and graduated in the Class of 1970 from Sanderson High School. He then attended N.C State Design School.
Anyone that knew Steve knew that he lived life to the fullest. He was an author, photographer, visual artist, illustrator and designer gentleman, highly well read with an awesome memory, and a keen mind for physics and science. In addition his children's books, many produced with his wife Robin Page, are among the best science books for kids who love the natural world.
He is survived by his wife Robin Page and their 3 children Alec, Page, and Jamie.