J. O. Sanderson High School


ANNOUNCEMENTS
---
Sign in or Join the class
Classmates - Please sign in to access all information on this site. If you're not a member yet, click the "JOIN HERE" link on the right side of the page to locate your name and join, there are no charges to join the site and create your profile.
It Finally Happened!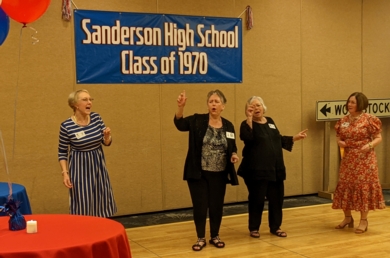 After years of postponements it finally happened - the long awaited 50th +2 reunion has wrapped up.
Thanks to the efforts of the Reunion Planning Committee, the very generous donors, and especially to all of our classmates for supporting the multiple change in plans over the last 2 years. Without everyone the reunion would never have been possible.
---
Support the Sanderson High School Foundation
A part of the funds raised through reunion registrations and donations will be gifted to the Sanderson High School Foundation. This 501(c)3 organization exists to develop a strong and inclusive school community and an excellent educational environment by funding major initiatives so that all Sanderson students may grow, thrive, and realize their greatest potential. Learn more about their mission and goals - https://www.shsfoundation.org/mission-index-impact
---
SANDERSON HIGH SCHOOL ALUMNI ASSOCIATION
Alumni are an important part of a strong school community, and the Sanderson Alumni Association provides an easy way for alumni to stay in touch with each other and stay updated on events at Sanderson.
Many Sanderson Alumni have fond memories of their time at Sanderson, and are appreciative of the important foundation the school provided as they became adults. By joining our efforts, you can continue to build on that foundation so that current and future Spartans might THRIVE and reach their greatest potential! Sign up is easy and donations are not required, but greatly appreciated! Join the Association here