J. O. Sanderson High School

In Memory
Lynne Beasley (Bissette)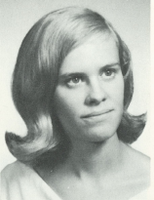 Lynne Beasley Bissette, age 64, of Canton, MS passed away on October 11, 2016 after a year long illness.
A native of Avery County, NC, she was born November 4, 1951 to Elsie Lowe Beasley and the late James C. Beasley of Newland. NC.
She attended school in Newland, Brevard and Raleigh. After graduating from UNC Chapel Hill, she taught elementary school in Wake Forest and Cary, NC. On October 4, 1975 she and Garth Bissette were married in Hickory, NC and lived and worked in the Durham area. She returned to Chapel Hill for a Master's Degree in Library Science. Garth and Lynne and their two children moved to Canton, MS in 1995 where she worked as a school librarian.
In addition to her mother, Elsie, Lynne is survived by her husband, Garth; son, Jonathon; daughter, Charlotte; two sisters, Katherine Burks and Martha Beasley.